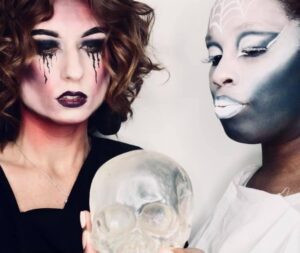 Do you love Halloween?
I do!  I use to say that I wish Halloween happened more than just once a year.
When you become a student at The Salon Professional Academy you get to use your creativity more than just at Halloween.  We have a themed fashion show 4 times a year where students get to step outside the box and use their imagination and talent creating a themed inspired look.  Below are some looks created by past students that may help you get inspired for a future costume.  We have more of these looks and video from past fashion shows on our youtube page.
Click here to check them out.    https://www.youtube.com/channel/UCsPCv7vuNWO34cfjYtGn5gA
---
Related Article: Pumpkin Back Facials at TSPA Maplewood
---
Halloween has been my favorite time of year since I can remember.  For me it is the creativity that you can use to make your costumes, carve pumpkins and decorate your home.  It is a time to pretend, make believe and get into character and be whoever you want to be.  Halloween may bring back fun memories of years past and it is a day that as an adult you can be childlike again if you choose.
I asked a few people from our team what their favorite part about Halloween was and this is what they said:
Sweet treats. ~Sara, Educator
Getting into costume and the spookiness of Halloween. ~Dana, Guest Services
Dressing up and watching my girls get excited about Halloween. ~ Cortney, Owner
I love watching the trick or treaters and seeing what creative costumes they have. ~ Taylor, Educator
I like pumpkin spice everything.  Snuggling on the couch watching movies and peanut butter cups. ~ Jordan, Educator