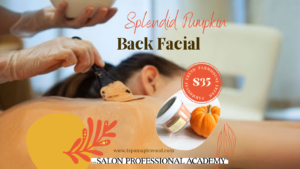 Keep Calm and Get Your Pumpkin On
That's right!  Get that pumpkin on while you relax and get pampered.  As the weather outside gets colder and the leaves start falling we need to remember the effect of the season change on our skin.
We are excited to announce a new fall service that we will be featuring using Farmhouse Fresh Splendid Dirt.  Splendid Dirt is a nutrient-rich mud mask that is a yogurt and enzyme face mask for evening skin tone and refining pores.
This thick blended puree goes on whipped and velvety smooth and will feel amazing getting brushed across your back.  It will help de-gunk and purify even the most congested skin.  You will feel the pumpkin mask working almost immediately with a tingly sensation from the oxygenation that increases circulation.
What is a BACK FACIAL?
Cleansing, exfoliating and moisturizing treatment for your back.  This is very beneficial in getting to those tough areas to reach.  You can target clogged pores, acne, and dry skin.
 Call 651-340-0766 to reserve your appointment with one of our students
*Photo from Farmhouse Fresh Website
---
Related Article: Halloween Costume Ideas for Beauty Enthusiasts
---
Splendid Dirt Mask Customer reviews below from https://www.farmhousefreshgoods.com
This mask is one of my favorites. It smells so good. As soon as it is applied you can feel it working. My skin looks and feels great after this mask.
Love the way this makes my skin feel
I love this product. As an esthetician I look for products that make a difference. This one does. Your skin is so soft after applying. Like ALL Farmhouse Fresh, I love it.
This is one of my favorite go-to products it feels tingly when it's on I know it's working and when I take it off my face looks so bright and clean
*All services performed by students under the supervision of licensed educators.