The year 2021 was full of different types of styles and looks. The pandemic-inspired fashion made headlines. Black face masks and wearing loungewear were considered fashion trends. We hope that the new year will be full of colors and rich styles. Here are the top 5 fashion trends that will go big in 2022.
Have a look at them!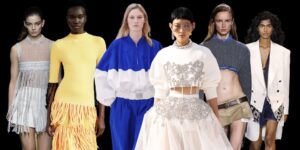 Photo credit ->BY NICOLE FRITTON AND KERRY PIERI article
1- Cutouts
In the year 2021, we had seen cutout dresses everywhere. We are going to see this trend getting more extreme this year. Cutout dresses, shirts, pants are a major trend this year. So, continue showing off your waist, sexy legs, and deep V-neck by wearing cutouts. This trend is inspired by many fashion designers including Saint Laurent, Jacquemus, Stella McCartney, and David Koma.
2- Ruched Dresses
The ruched dress will be one of the biggest fashion trends of 2022. This dress has a no-traditional silhouette and can be easily dressed up or dressed down. It looks so stylish, and you can easily mix and match different accessories.
3- See Through Dresses
Naked Dresses will make a huge comeback this year. The sheer dress will make sure that you look sexy and desirable to everyone. LaQuan Smith and Christian Siriano were among the top designers who approved the naked dress by showcasing them on fashion runways.
4- Fringes
Add movement to your outfit this year by wearing fringes. The fringes can be found on bags, shirts, coats, blazers, capes, dresses, and jackets. The fringes were spotted at the runways of Fendi, Salvatore Ferragamo, and Chloe.
5- Puffy Sleeves
The overdramatic puffy sleeves are also making a huge comeback this year. You can wear a puffed-up sleeves jacket, a dress, or a shirt to look trendy. These puffy sleeves were spotted at Louis Vuitton, Dior, and Chanel fashion runways.
These are the top 5 fashion trends of 2022. Floral print, yellow hues, catsuits, morph suits, knit dresses, and sweaters will also go big. Grab your favorite pieces now to look trendy!