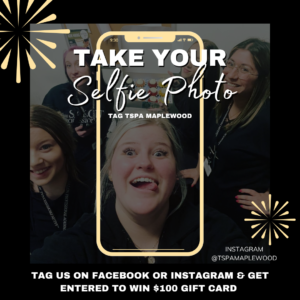 It's Selfie Time At The Salon Professional Academy!
Selfie photos have become a popular trend over the years, with people taking pictures of themselves and sharing them on social media platforms. Selfies can be taken in different angles, lighting, and locations, making them unique and personalized to the individual. Selfies can also capture memories, document experiences, or simply showcase one's style and personality. With the rise of the selfie culture, smartphone manufacturers have improved the quality of front-facing cameras to meet the demands of users. Selfies have become a way for people to express themselves and connect with others through social media.
Any guest that posts a SELFIE on Facebook or Instagram in April will get entered to WIN a $100 Gift Card.
Click here to go to our Facebook page. https://www.facebook.com/tspamaplewood
Click here to go to our Instagram page. https://www.instagram.com/tspamaplewood/
Book appointment here https://login.meevo.com/TSPAMaplewood/ob?locationId=105309