Gift-Giving is our common human nature. It represents our love for one another or simply that we appreciate each other by giving gifts.
But thinking of what to give to our loved ones is time-consuming, and maybe it is not what they want or need. That's why Gift Certificates or Gift Cards are the most common gifts in today's world.
Many people love gift cards because it not only saves you time, but your loved one will also have the liberty to choose what they want from the particular store. and it gives them the satisfaction of having been gifted well.
Gift cards can be an easy and useful substitute for cash when you need to make purchases or want to give a gift to someone else. Physical gift cards can be used in stores or online, while digital gift cards are designed to be used digitally.
Now is the time to grab your GIFT CARDS from The Salon Professional Academy.  We have free promo cards right now through the end of the year!  Buy for yourself and your friends and family!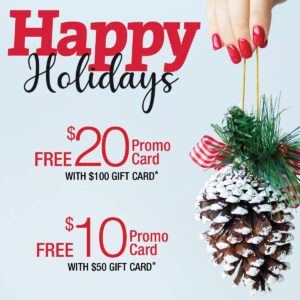 Offer expires 12/31/22.