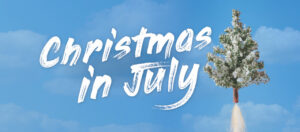 Do you like RECEIVING Gift Certificates?
Do you like GIVING Gift Certificates?  
We asked our Lead Educator Jordan these questions.   "I like getting gift certificates because you can pick out what you want."   She likes to gift them because is it easy and nice way to show someone that you are thinking of someone.
Many people like gift cards for these same reasons.  Salon and spa gift cards are especially nice for those who normally don't like to spend money on themselves.  Is this you?
Our Christmas in July is a great opportunity to purchase gift cards and a great discount.  You can purchase them for yourself for future appointment or for someone else.  What a great treat!  Our services here at The Salon Professional Academy are already at a great price point compared to going to a licensed salon.  All services here are performed by students under licensed professionals.  We really appreciate all of our guests that visit and help our students gain experience.
So now is the time.  Stop in and get yourself, friend or co-worker a gift card and enjoy a fun service with our students.  For a list of services offered and prices visit our salon services page here –>>  https://www.tspamaplewood.com/salon-services/
Our Gift Certificates do not expire so you could use this time to do a little early Christmas shopping as well and spread out that expense of the holidays.  You could use them to get beautified for the holidays as well.
20% off Retail in July!