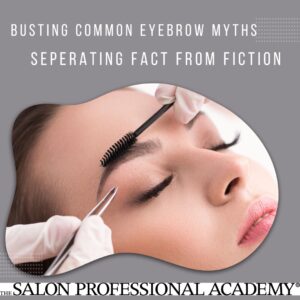 Eyebrows are a prominent feature of our face, framing our eyes and adding character to our overall appearance. However, there are several myths and misconceptions surrounding eyebrow care and maintenance that can lead to confusion and less-than-desirable results. In this blog, we debunk some of the most common eyebrow myths and provide you with the truth to help you achieve your best brow game.
Myth: Plucking a gray hair will cause multiple hairs to grow in its place. Fact: Plucking a gray eyebrow hair will not cause more gray hairs to grow. Each hair follicle produces only one hair, so plucking a gray hair will not generate more in its place. However, excessive plucking can damage the hair follicle, leading to sparse brows over time.
Myth: Shaving your eyebrows makes them grow back thicker and darker. Fact: Shaving your eyebrows does not affect the texture or color of regrowth. When you shave, you only remove the hair above the skin's surface, not the root. The regrown hair may appear slightly coarser due to the blunt edge, but it will eventually return to its normal thickness and color.
Myth: Applying castor oil regularly will make your eyebrows grow faster. Fact: While castor oil can nourish and moisturize eyebrow hairs, there is no scientific evidence to support the claim that it promotes faster hair growth. Factors like genetics, diet, and overall health play a more significant role in determining hair growth rate.
Myth: You should always follow the trendiest eyebrow shape. Fact: Eyebrow trends come and go, but what suits your face shape and personal style should take precedence. A professional brow shaping session can help you determine the most flattering shape for your face, taking into account your unique features.
Myth: Filling in eyebrows with dark eyeshadow or pencil looks unnatural. Fact: When done correctly, filling in your eyebrows with the right products can enhance your natural beauty and create a more defined look. Opt for eyebrow pencils or powders that match your hair color and use light, feathery strokes to mimic the appearance of natural hair.
Conclusion: By dispelling these common eyebrow myths, we hope to empower you with accurate information for maintaining and styling your eyebrows. Everyone's eyebrows are unique, and what works for one person may not work for another. Embrace your natural brows, seek professional guidance when needed, and make choices that enhance your individual beauty. Happy brow grooming!
If you found this blog helpful, be sure to share it with your friends and let us know your thoughts in the comments below.  #BrowMythsDebunked #EyebrowTruths #BrowGameStrong