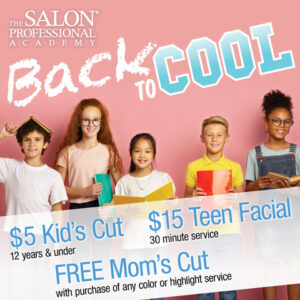 If you are like me you do not want to think about back to school shopping.  My girls and I actually ran by the school supply aisle the other day as I yelled "Don't look!"  Even though we try to pretend it is not coming it is.  One area that my kids do look forward to is their back to school hair appointments.
One benefit of coming to The Salon Professional Academy if that the price is right!  With the expense of all the school supplies this is a great area to not over spend.  $5 Kids Cuts!  Not only are you getting a great value but you are helping a student grow in their career.  All services are performed my students under the supervision of licensed educators.  
Now let's talk about TEENS!  Going back to school can be a stressful time packed with excitement and nerves.  Anything that you can do to help your TEEN build confidence can help them get through this time in their life.  We are offering $15 Teen Facials.  Our students & educators can help educate them on their skin and proper at home care.
Last but not least….  We did not forget about MOM.  Mom can come with and enjoy a Free Haircut with any Color Services in August.
Buy 2 get 1 FREE ~ All Redken Products
20% off Dermalogica Clear Start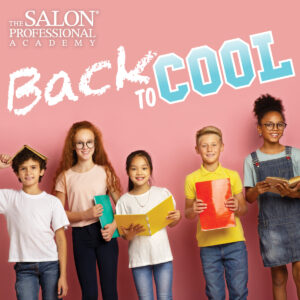 All promotions above are for the month of August 2022.  Offers cannot be combined with other offers.  
All services performed by students under the supervsion of licensed educators.