6 Beauty Tips for Holiday
We have some very useful beauty tips that you need this holiday season! Check it out!
Tired eyes
If you want to get rid of puffy eyes, then give yourself a little massage that makes you look bright and alert for the Holidays.  We recommend a Dermalogica eye cream or serum Start at the corner of one of your eyes and work your way up between the brow bone and the eye, massaging lightly as you go until you reach the outer edge of the eye.
One trick if you didn't get a good night's sleep is to use a highlighter or bright eyeshadow on the inner corner of your eye to open it up. Add white eyeliner to the waterline for an enhanced effect. Makes you look fit and alert right away!
A great pair of false eyelashes add amazing drama to your Holiday look without a huge time commitment. Make sure to cut the strip to fit the shape of your eyes.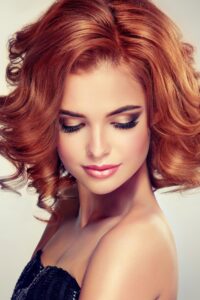 Colored lips
Especially in winter, make it a habit to carry a multi-tasking balm in your bag. A red lip is a classic holiday look. For a fresh take on the color this season, try a burgundy or plum lipstick.
For a bold, long-lasting finish, go on one coat of lipstick straight from the tube, blow-dry, and then go on a second coat.
An Easy Updo
One of the best beauty tips that you can master is the art of simple hairstyles. If you want to lift your hair, twist a section from the front of your hair; pin in place at the back of the head. Repeat with the other side. Next, take the rest of your hair and make a messy bun. This look is classy, ​​simple, and fast!
Often the prettiest and most romantic updos are the ones that seem the least fussy; a messy twisted bun is a perfect example.
Add metallic accessories to your hair
Gold barrettes, hair clips or a garment will instantly dress up your usual hairstyle. To copy this style, spray a texturizing spray through damp hair, pinch, and then let it dry (if you want more waves, wrap a few small sections around a curling iron). Twist the front sections of your hair back, securing them with bobby pins, then pin the accessory into your hair, pinning it down if necessary. Hair school classes are starting soon.

Well-kept nails
Gorgeous nails really make a big difference in your appearance. To reduce the stress of the holidays, why not go for a long-lasting nail polish? These polishes last much longer than normal lacquers and require very little maintenance. It will save a lot of time!  You can reserve an appointment with one of our students for a regular or gel polish manicure.  651-340-0766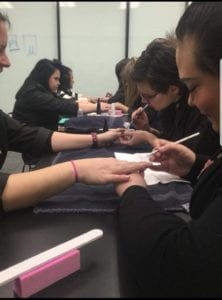 Experiment with something different
Whether you've always wanted to try false eyelashes or bright red lipstick, the holidays are the time to try something new. Not sure if you will like it? Practice makes perfect. Always try on your new look first before your big debut, making sure you will look and feel your best.
Learn more tips with our Beauty Program.
For a list of services offered here at The Salon Professional Academy click here https://www.tspamaplewood.com/salon-services/
*All services performed by students under the supervision of licensed educators.