Are you an Active Duty Soldier or an Honorably Discharged Veteran?
We would like to thank you and your children for your service/sacrifice to our country by providing you with an opportunity for a Military Scholarship.
This scholarship application is available for students who qualify.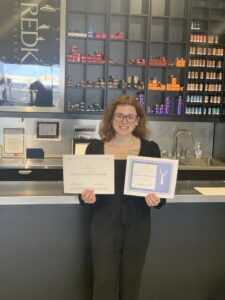 Military Scholarship
Scholarship Eligibility
Must provide a copy of Military ID for active military members.
Honorably discharged veterans must provide a copy of their DD214.

Dishonorably discharged veterans are not eligible for this scholarship.

A child of a veteran will need to provide their birth certificate / legal guardianship / adoption papers and one of the above documents.
Accepted for enrollment at The Salon Professional Academy, Maplewood, MN on a full time basis in the Cosmetology program.
Provide a 500 word or less typed essay or video sharing what it means to:

"Serve/sacrifice for our country and how service to our country has impacted your family."

Submit the completed scholarship application.
Provide two letters character reference from someone other than family or friends.
Student is only eligible for one grant or scholarship from The Academy.
Scholarship Details
If the student fails to start classes, any awarded scholarship becomes null and void.
If the student postpones enrollment to a future start date, the student would need to reapply for scholarships and is not guaranteed a scholarship based on a previous decision.
TSPA Military Scholarship awarded must be applied to the student's tuition cost.
TSPA Military Scholarship awarded is non-transferrable.
There is no cash allocation for this scholarship.
Incomplete applications will not be considered.
Scholarship Award
The Cosmetology scholarship is valued at $3000 per award.
Eligibility is determined by a combination of providing required documentation listed in the "Scholarship Eligibility" section above and the quality and content of the scholarship  / or video.

Essay or video will be rated based on the following system:

10% professionalism of the response
20% articulation of thought in the fewest number of words
70% content of the essay / video

The decision by the Scholarship Selection Committee will be final.
The applicant may not appeal the decision.
This scholarship must be used towards Academy tuition.
There will be no cash allocation for this scholarship.
For more information about our programs and class start dates contact us by filling out a form on our website or email admissions@tspamaplewood.com.  You can also call us at 651-340-0766.
We look forward to meeting you and getting you started on a path to a great career and future!